It took over two and half hours to get to Accompong from the resort I was staying at Montego Bay. The roads where narrow and bumpy. As you can see from the photos, I was able to see the real Jamaica that people do not see when visiting.
I got to the town on a quiet morning. For a small fee we were taken on a guided tour around the community, and the significance of the place grew on me as I toured around the community. Oral White made a knowlegable guide. This is when I realised the difference between reading history, and feeling history come alive.
Within the town, individual plots of land are passed down from generation to generation, with no official titles changing hands. Neither the land nor income generating activities within its boundaries are subject to government tax.
When you enter the community you see the abeng. The abeng is the most recognised symbol of the Maroons. It is a cow's horn with the tip cut off. The Maroons sent secret war time messages by the drum and the abeng. Blowing through a square cut into the concave side of the abeng produced a sound heard for miles, which could be decoded by those who knew how. Today it is used mainly for ceremonial and festive purposes.
Accompong today is a farming community, with a few shops to serve the local population, and a small museum showcasing the history of the Maroons.
January 6, Accompong celebrates Kojo's Day. Hundreds gather from across Jamaica and the world to commemorate Kojo and the signing of the Peace Treaty. On 6th every year, the Maroons in Jamaica hold a special celebration in Accompong, St. Elizabeth. They celebrate the birthday of their great leader Kojo, and commemorate the 1738 signing of a Peace Treaty with the British.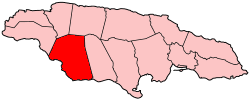 Maroons from across Jamaica and the globe gather in Accompong on this day. The ceremony also attracts Jamaicans from all walks of life, and visitors from many countries.
This was the best part of my Jamaican trip.
See the photos at Photography by McGraphics
Stock Photos for Sale
Related articles