GoPro's HD HERO is the world's highest performance wearable 1080p HD video and still photo camera. Professional quality 1080p / 960p / 720p HD resolutions record at 30 and 60 frames per second (60 fps in 720p). Record up to 2.5 hours on a single charge and up to 9 hours total on a 32GB SD card.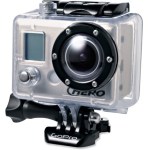 The camera can also shoot automatic 5 megapixel photos at 2/5/10/30 and 60 second intervals during your activity, hands free. Press the shutter button once at the start of your activity and record up to 2.5 hours of poster-print quality photos of you and your friends, living it up.
Smaller, lighter and 2X more powerful, again.
The Wi-Fi enabled HERO3: Black Edition is the most advanced GoPro, ever. No expense was spared during its development, resulting in a GoPro that is 30% smaller, 25% lighter and 2x more powerful than previous models. Wearable and gear mountable, waterproof to 197′ (60m), capable of capturing ultra-wide 1440p 48fps, 1080p 60 fps and 720p 120 fps video and 12MP photos at a rate of 30 photos per second, the HERO3: Black Edition is the world's most versatile camera.
Improved Sharpness, Less Distortion
The HERO3's reduced-distortion, 6-element aspherical lens combines with user-selectable
Ultra
-wide, Medium and Narrow field-of-views to deliver more perspective-capture options than ever before. Add the totally updated
flat-lens
waterproof housing that delivers stunning image sharpness both above and below water and you've got one of the most powerful and durable image capture solutions on the planet.
Related articles.